David Menestres is a bassist, composer, and writer currently living in the Piedmont region of North Carolina. David is the founder/leader of the Polyorchard ensemble and is the host/producer of Tone Science, a weekly two-hour radio show on taintradio.org since 2010.
Polyorchard is dedicated to exploring the grey area between free jazz and modern classical music, an area rich for exploration, with tunnels leading in virtually any direction one can imagine. Polyorchard fluctuates between very small ensembles, duos like the low end 1+1 iteration that existed deep in the American desert, to large ensembles spilling off stages in the Piedmont of North Carolina.
Since Polyorchard's inception in late 2012, the ensemble has performed spontaneous compositions, works by members of the group, and works by composers such as Alan Courtis, Terry Riley, Alvin Curran, Eva-Maria Houben, Jacques Demierre, Magnus Granberg, Jackson Mac Low, John Zorn, and many more. Polyorchard has collaborated with a diverse array of artists including Japanese noise legend Merzbow and ensemBle baBel from Switzerland. Polyorchard has also implemented a program to commission new works specifically for improvising ensembles and has so far premiered works by Thomas Dempster, Andrew Weathers, D. Edward Davis, Will Redman, with more new pieces to come in the next few years. Polyorchard has performed on bills alongside Tashi Dorji, Dougie Bowne, Ken Vandermark, Nate Wooley, and many more.
David and Polyorchard are available for concerts, lectures, workshops, and other forms of interactions in all parts of the world. Get in touch for more information.
"Listening to the album is not for the barely bothered nor faint-hearted. The music comes from deep within the psyche of the musicians involved and several journeys are required to be made both in terms of imagination, and possessing an open mind to music which feels as much as it sounds." – Sammy Stein, FreeJazzBlog (July 15, 2021)
"one of my must-own recommendations for the year…demonstrates the breadth of interaction between two talented musicians, each performer pushing themselves and their instruments to occasional extremes. Ink draws its inspiration from free improvisation, visual art, poetry, outsider art, and threads tenuous connections that continuously strengthen and rewrite themselves upon further listening." – Lee Rice Epstein, FreeJazzBlog (July 25, 2020)
"like climbing a sound mountain – something akin to staring an abyss in the face – and taking the plunge – full on, head first into annihilation" – Sammy Stein, FreeJazzBlog (March 2, 2019)
"[Polyorchard's] sole constant member is David Menestres, a bassist and composer of exceptional skill and vision, and its ranks ebb and swell as the music dictates. Whether large or small, Polyorchard deftly straddles contemporary classical's pith and free jazz's vinegar, using silence and tension to fuel momentum." – Patrick Wall, Free Times (December 19, 2018)
"the tension of silence fuels the momentum that seems to drive each set forward." -Lee Rice Epstein, FreeJazzBlog (September 29, 2018)
"[Polyorchard] displays a bold commitment to the practice, not the genre, of improvisation. The distinction is a subtle but crucial one. Where many free improvisation performances can fall into a predictable dynamic pattern of peaks and valleys, Polyorchard crafts intricate forms with clear but idiosyncratic arcs. Each extempore arrangement is packed with surprise… new aspects emerge on every listen, the band's ability to create spontaneous structure consistently fascinating, and more than a little befuddling." -Matt Wuethrich, Dusted (October 24, 2017)
"Combining elements of free jazz, classical music, and whatever the hell else they feel like, Polyorchard is a free-form experimental music collective that challenges—and often outright transcends—boundaries of genre and style." -Allison Hussey, Indy Week (March 15, 2017)
"The revolving, motley assortment of classical, jazz and rock musicians have played practically every kind of music in every possible configuration in almost every Triangle venue, emerging as a vital and wonderfully vexing force of the area's sonic fringes." -Chris Vitiello, IndyWeek (May 20, 2015)
"an ensemble of Justice League proportions" -Will Robin, IndyWeek (December 30, 2013)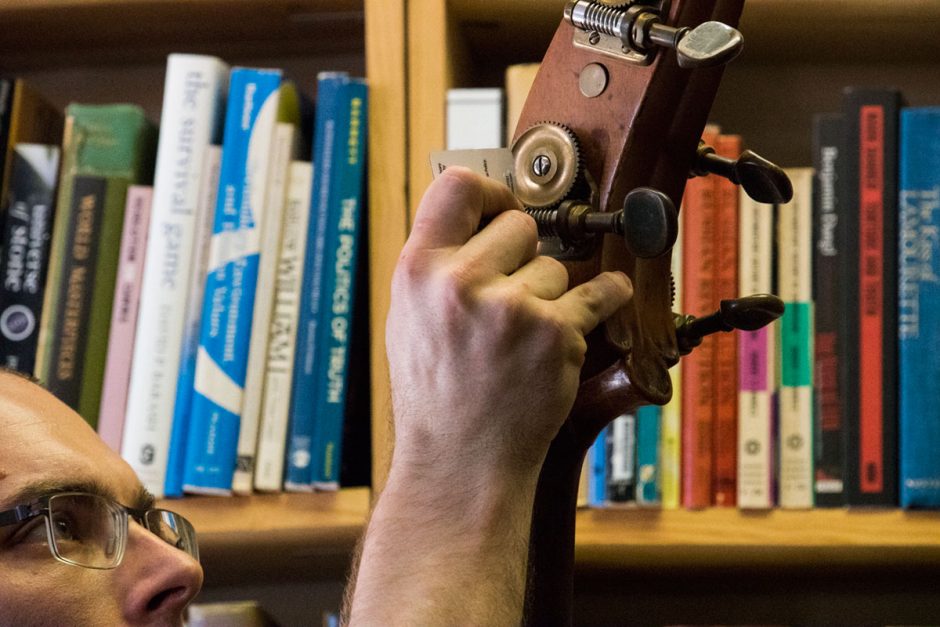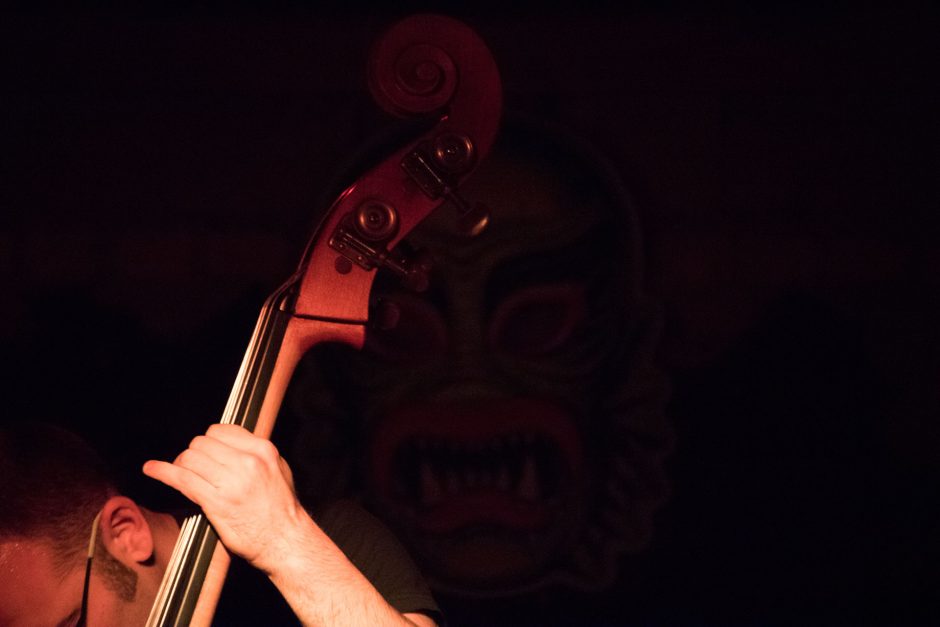 Photos my be used for media purposes if full credit is given to Brandon Pierce.
press
2020-07-25 5 star review of Ink by Lee Rice Espstein for FreeJazzBlog.
2019-03-02 Review of Black Mountain and Sommian by Sammy Stein for FreeJazzBlog.
2018-12-19 Concert preview by Patrick Wall in Free Times.
2018-11-07 A U.S. Premier of Contemporary Music at UNCG (on Magnus Granberg's How Vain Are All Our Frail Delights?) from Yes! Weekly.
2018-09-30 4 star review of Red October and Color Theory in Black and White from FreeJazzBlog.
2018-09-29 4 star review of sextet|quintet and a short interview with FreeJazzBlog.
2018-04-11 4 star review of Red October from AllAboutJazz.
2018-02-15 4 star review of Red October in the March 2018 issue of JazzWise.
2018-02-10 FreeJazzBlog review of James Gilmore's Bag of Tricks vol. 1.
2017-12-06 review of Red October in AvantScena.
2017-11-14 interviewed by For The Love of Noise.
2017-10-24 Red October review in Dusted by Matt Wuethrich
2015-03-17 IndyWeek Concert Preview by Allison Hussey
2015-12-23 IndyWeek The Triangles 25 Best Albums of 2015 by Grayson Haver Currin
2015-05-20 IndyWeek Arrivals, departures, and additions: Record review: Polyorchard's Color Theory in Black and White by Chris Vitiello
2015-04-08 Triad City Beat Rules allow magic to happen during improv piece by Jordan Green
2015-03-25 IndyWeek Preview of Collapss + Polyorchard presents John Zorn's Cobra at The Shed by Grayson Haver Currin
2014-10-29 IndyWeek Area improvisers revisit Terry Riley's landmark In C by Chris Vitiello
2014-05-21 IndyWeek How Free Improv Bassist David Menestres Gets His Sound by Corbie Hill
2014-05-21 IndyWeek Freeform collective Polyorchard celebrates Sun Ra's centennial by not playing his music by Corbie Hill
2013-12-30 IndyWeek Musicians>audience members: Polyorchard's first anniversary concert by Will Robin
2013-12-18 IndyWeek Preview of Polyorchard, Baby Copperhead, Tegucigalpa show at the Nightlight by Will Robin